Trial Manager - Trials¶
Trial manager is designed to provide management, curation, and visualisation tools for trials so that they can be used in KDSmart for scoring and also so data can be curated before being uploaded to KDDart. This section provides more information on trials including how to create and manage them in Trial Manager.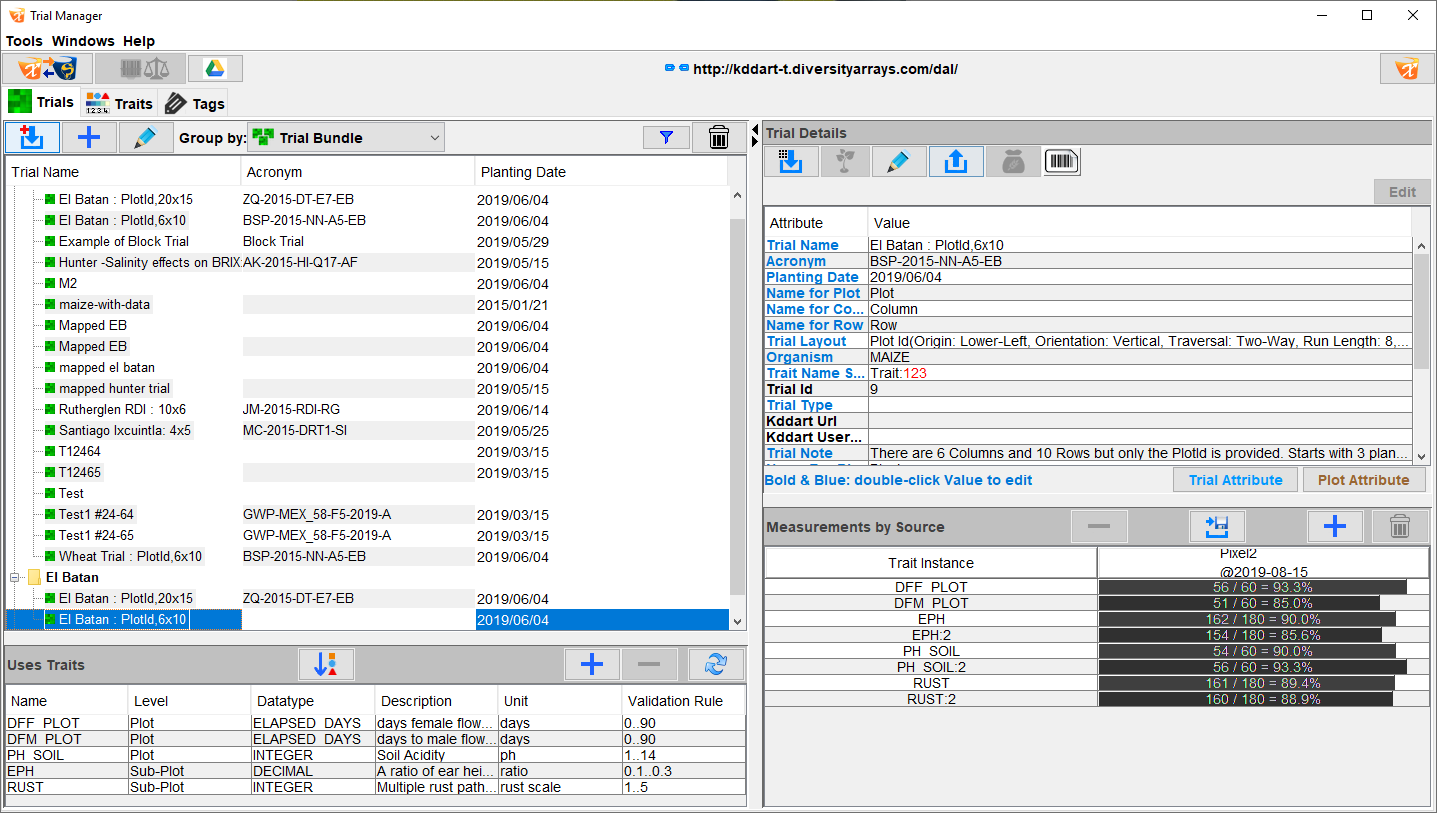 What is a Trial?¶
Trial is the general term that is used in KDDart to refer to studies, experiments, nurseries, projects ,etc. A trial will contains traits that are used to record data and possibly also tags. More information on traits and tags can be found on the Trait and Tag pages
Generally a trial is created in KDXplore or KDManage, transferred to KDSmart for scoring in the field, and then transferred back to KDXplore for data curation, and finally uploaded into KDDart.
Trial Details¶
Each trial contains a set of details that define its characteristics. The following table lists the details of a trial (from KDDart) that are displayed in the Trait Details Panel. The details outlined in green in the image below are details related to KDDart.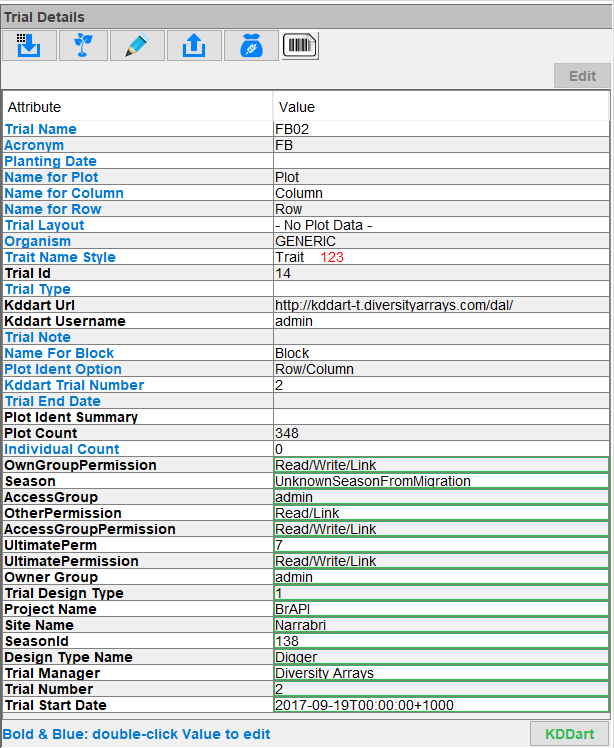 Trial Management¶
Trials in Trial Manager are managed from the Trials Tab which is outlined in the Trial Manager - Overview page. The following actions can be performed in the Trials Tab.
Create new trials;

Edit trials;

Delete trials;

Bundle trials;

Import trials from a CSV or KDX file; and

Export selected traits to a CSV or KDX file.
Trial Bundle Management¶
Trials can be grouped into bundles to assist with management. Trial bundles can be created in Trial Manager and imported/exported from other devices as well. There will always be a bundle that is automatically created called All Trials.
Creating Trial Bundles¶
The steps below are an example of how to create a new trial bundle: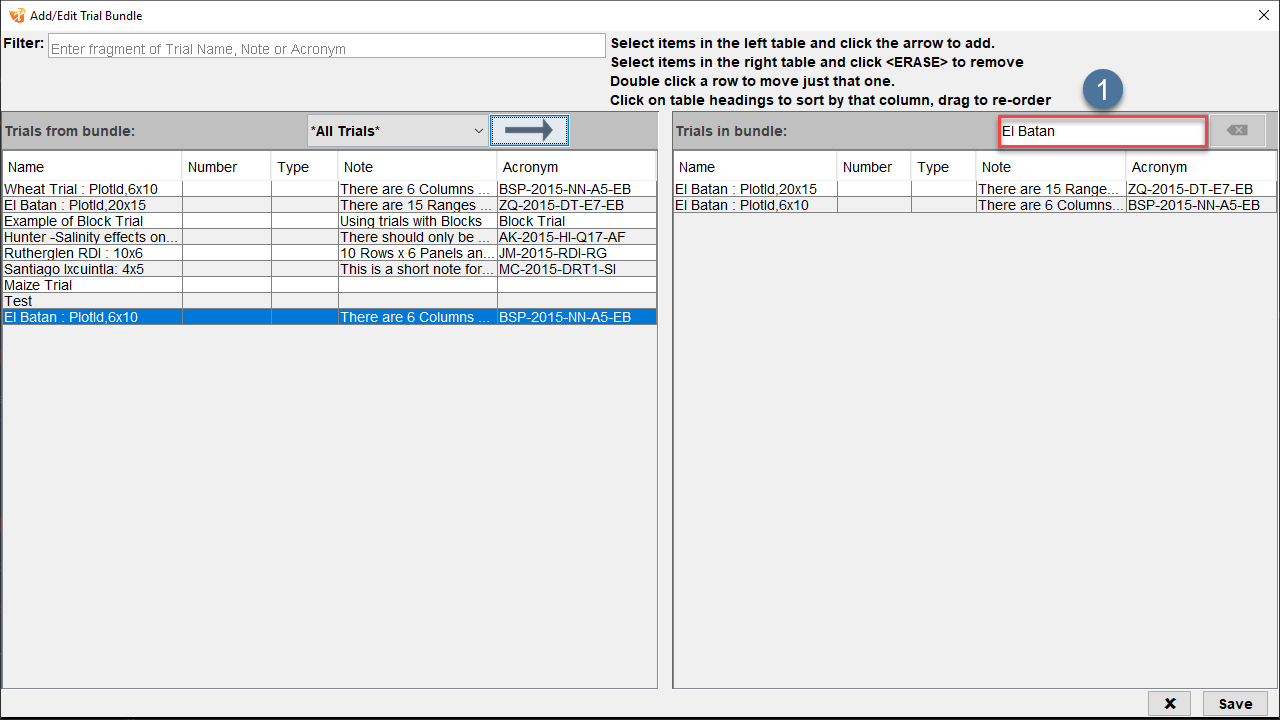 ¶

| Step | Action |
| --- | --- |
| 1. | Select the Add Button from the Trials Panel and choose the Add Trial Bundle option to open the Add/Edit Trial Bundle Window as pictured above. |
| 2. | To add a trial to the new bundle, either double-click a trial or select it with a single-click then select the Add To Bundle Button. Click+drag, shift+click, or ctrl+click to select multiple trials. |
| 3. | Enter a name for the bundle in the field at . |
| 4. | Ensure that all necessary trials have been added and then select the Save Button. |
Editing Trial Bundles¶
Trial bundles can also be edited to change the bundle name and add or remove trials from the bundle.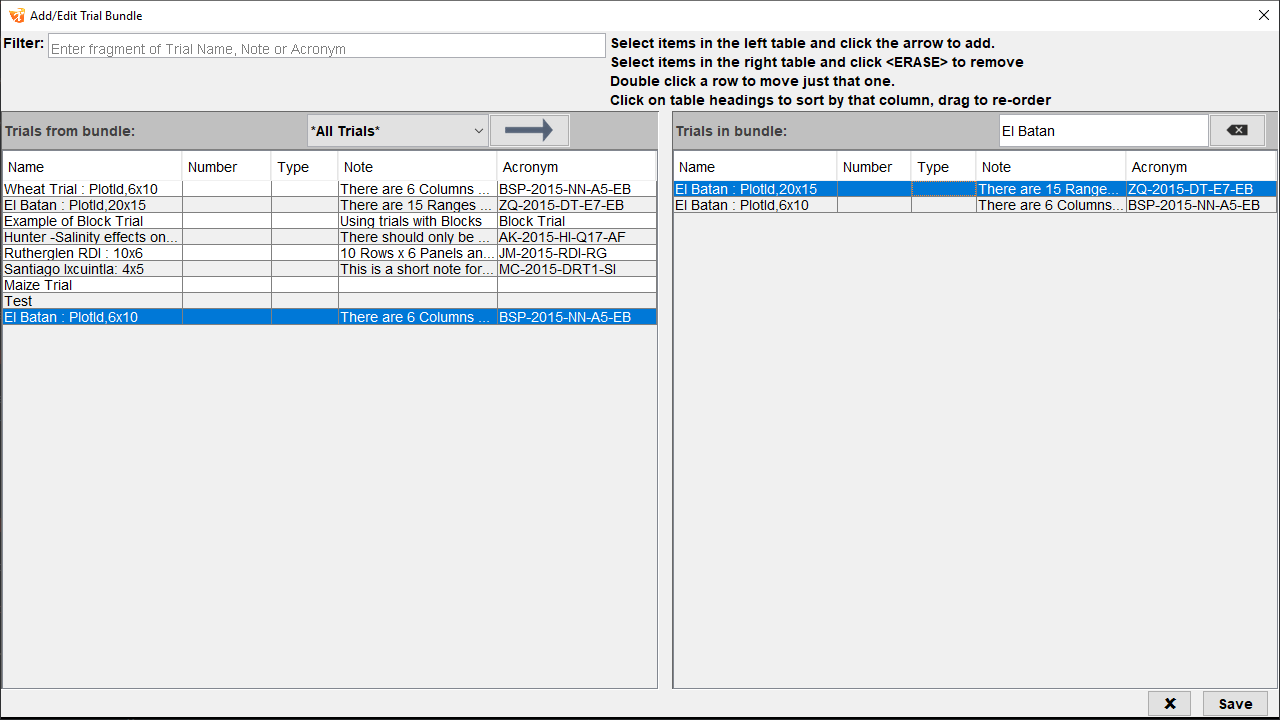 ¶

| Step | Action |
| --- | --- |
| 1. | From the Trials Panel, select a trial bundle to be edited and then select the Edit Button. This will open the Add/Edit Trial Bundle Window |
| 2. | To remove trials from a bundle, select one or more trials from the bundle (listed in the Trials In Bundle Panel) to be deleted and select the Remove Button to confirm the edit. |
| 3. | More trials can also be added to the bundle. To add trials, select one or more trials from the Trials From Bundle Panel and then the Add To Bundle Button to confirm the edit. |
Deleting Trial Bundles¶
Trial bundles that are not needed can be deleted from Trial Manager in a similar way to deleting individual trials.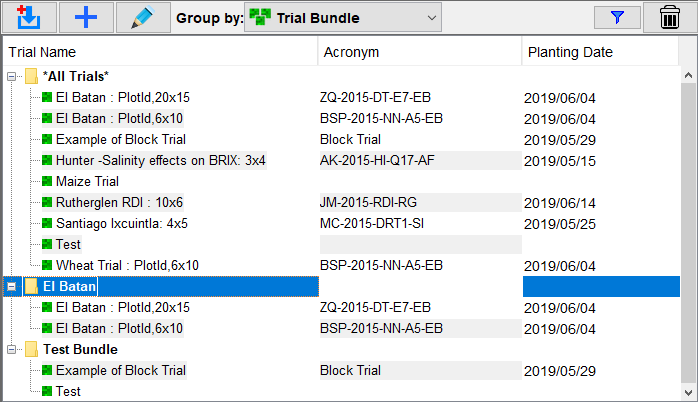 ¶

| Step | Action |
| --- | --- |
| 1. | From the Trials Panel, select a trial bundle to be deleted and select the Delete Button (as in the above image). |
| 2. | Select the Delete Trial Bundles option. |
| 3. | There will be a confirmation dialogue which will ask for confirmation to delete the selected trial/s, either select the Yes Button to confirm the deletion or the No Button to cancel deletion of the bundle. |