Trial Manager - Tags¶
KDSmart scoring includes the use of tags to provide short text descriptions for plots and sub-plots. This section provides more information on tags including how to create and manage them in Trial Manager.
What is a Tag?¶
Tags are short, text descriptions that are used to represent information about a plot or sub-plot (a cell) in a trial e.g. 'BD' which can mean 'bird damage'. They provide a quick method of applying predefined classifications or annotations to plots or sub-plots. They essentially work like reusable notes.
Tags have the following characteristics:
User definable;

Consist of a short name and optional long description;

New tags can be created in the field;

Can be imported from a CSV file; and

Are exportable to CSV file.
The main benefits of tags are that they:
Are simple to use - selectable from a list makes them quick and easy to assign;

User or project definable;

Provide consistent annotation, avoiding problems with spelling or language; and

Deployable across multiple users, devices and locations.
This means that the:
Users spend less time writing and repeating notes in the field; and

Data curators have more consistent, uniform recordings from multiple locations by different field workers.
A few tag examples are shown in the following table:
¶

| Tag (Short Name) | Long Description |
| --- | --- |
| BD | Bird Damage |
| LDG+ | General Lodging in plots-mild |
| LDG++ | General Lodging in plots-moderate |
| WET | Waterlogging |
Tag Management¶
Tags in Trial Manager are managed from the Tags Tab (seen in the image below) which is outlined in the Trial Manager - Overview page. The following actions can be performed in the Tags Tab.
Add a new tag;

Edit a tag description;

Delete a tag;

Import tags from a CSV file; and

Export selected tags to a CSV file.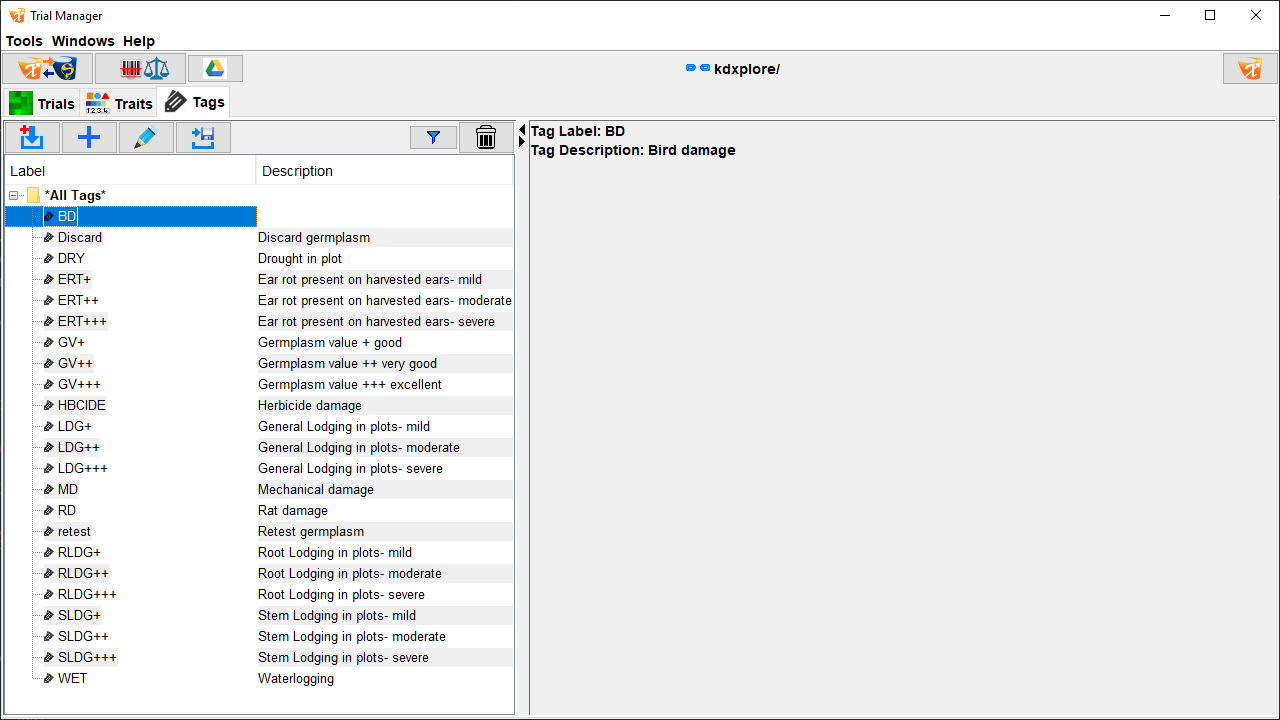 Creating Tags¶
Tags can either be created in Trial Manager or imported. Follow the instructions below to create a new tag.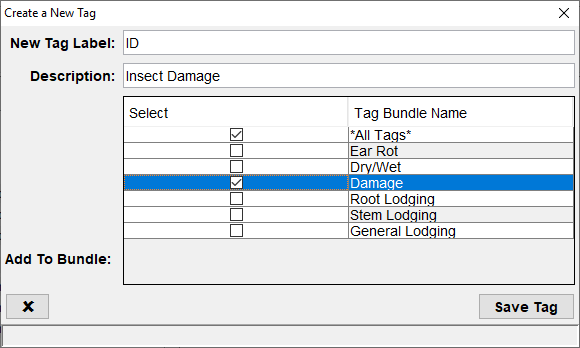 ¶

| Step | Action |
| --- | --- |
| 1. | From the Tags Tab, select the Add Button and then the Add Tag option to open the Create a New Tag Window. |
| 2. | Enter a tag label such as ID in the above image. |
| 3. | Enter a description that explains what the tag label is such as Insect damage. |
| 4. | Use the checkboxes to add the new tag to any existing tag bundles. All new tags will automatically be added to the All Tags bundle. |
| 5. | Select the Save Tag Button to save the new tag. |
Note
Tags can also be created in KDSmart so it is not always necessary to organise tags before exporting trials to be scored. Tags cannot be edited in Trial Manager once created, but new tags can easily created instead.
Deleting Tags¶
Tags that are not needed can be deleted. One or more tags can also be deleted at once. See the instructions below for more information: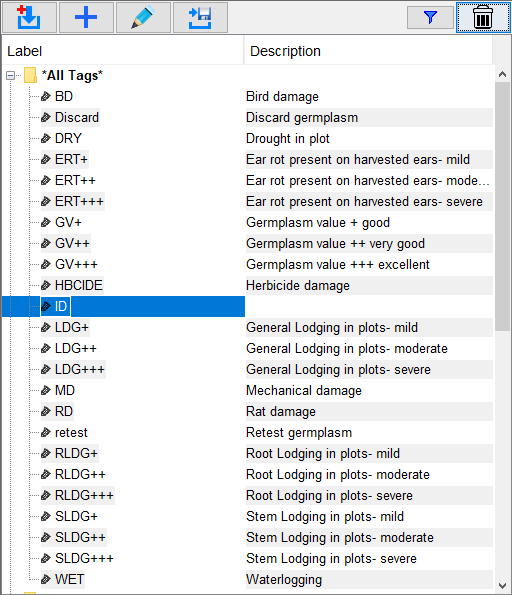 ¶

| Step | Action |
| --- | --- |
| 1. | From the Tags Panel, select one or more tags to be deleted and select the Delete Button (as in the above image). |
| 2. | Select the Delete Tags option. |
| 3. | There will be a confirmation dialogue which will ask for confirmation to delete the selected tag/s. Either select the Yes Button to confirm the deletion or the No Button to cancel deletion of the tags. |
Tag Bundle Management¶
Tags can be grouped into bundles to assist with management. Tag bundles can be created in Trial Manager and imported/exported from other devices as well. There will always be a bundle that is automatically created called All Tags. The image of the Tags Panel below contains tag bundles such as Damage and General Lodging.
See the sections below for tag bundle management.
Creating Tag Bundles¶
The steps below are an example of how to create a new tag bundle: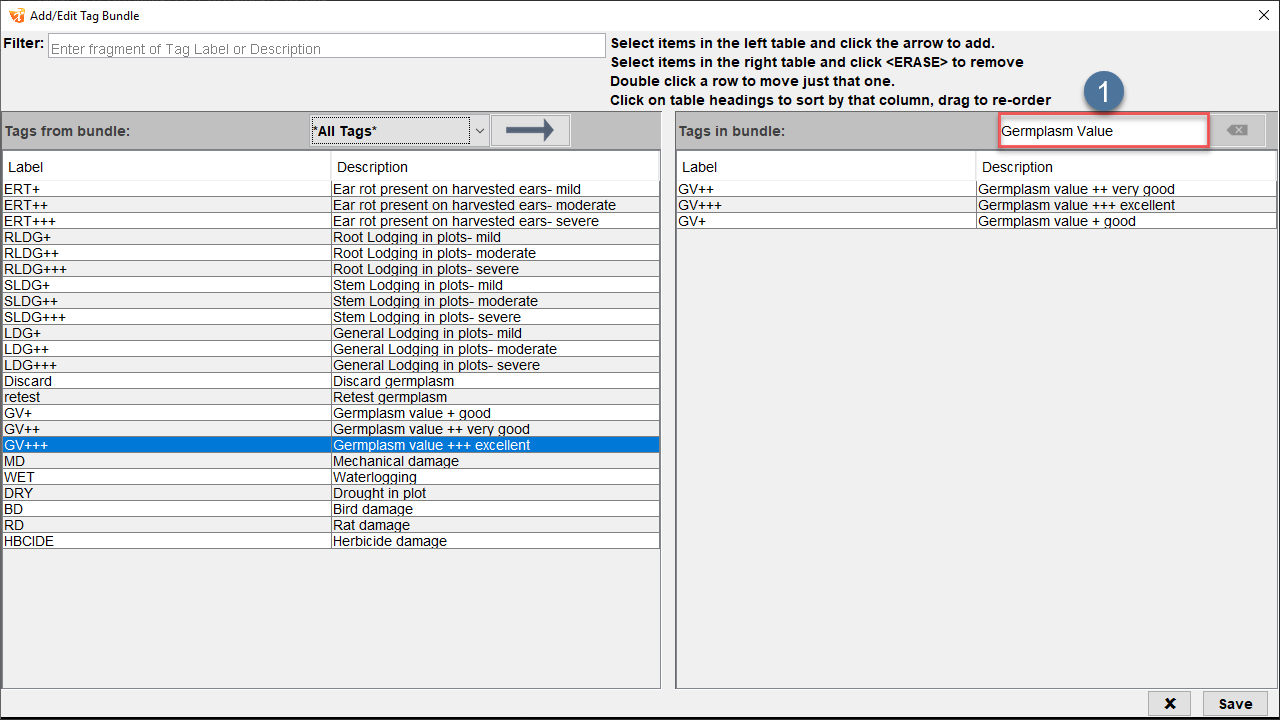 ¶

| Step | Action |
| --- | --- |
| 1. | Select the Add Button from the Tags Panel and choose the Add Tag Bundle option to open the Add/Edit Tag Bundle Window as pictured above. |
| 2. | To add a tag to the new bundle, either double-click a tag or select it with a single-click then select the Add To Bundle Button. Click+drag, shift+click, or ctrl+click to select multiple tags. |
| 3. | Enter a name for the bundle in the field at . |
| 4. | Ensure that all necessary tags have been added and then select the Save Button. |
Editing Tag Bundles¶
Tag bundles can also be edited to change the bundle name and add or remove tags from the bundle.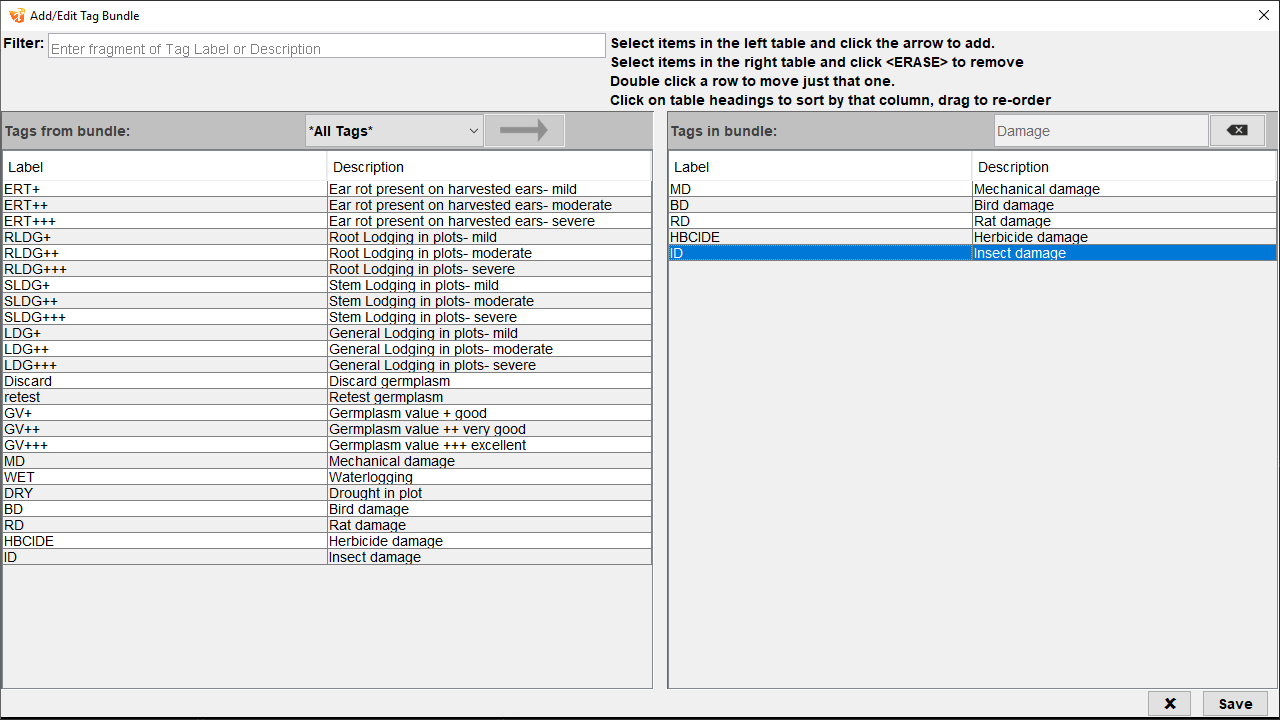 ¶

| Step | Action |
| --- | --- |
| 1. | From the Tags Panel, select a tag bundle to be edited and then select the Edit Button. This will open the Add/Edit Tag Bundle Window |
| 2. | To remove tags from a bundle, select one or more tags from the bundle (listed in the Tags In Bundle Panel) to be deleted and select the Remove Button to confirm the edit. |
| 3. | More tags can also be added to the bundle. To add tags, select one or more tags from the Tags From Bundle Panel and then the Add To Bundle Button to confirm the edit. |
Deleting Tag Bundles¶
Tag bundles that are not needed can be deleted from Trial Manager in a similar way to deleting individual tags.




Deleting Tag Bundles (select to zoom)




¶

| Step | Action |
| --- | --- |
| 1. | From the Tags Panel, select a tag bundle to be deleted and select the Delete Button (as in the above image). |
| 2. | Select the Delete Tag Bundles option. |
| 3. | There will be a confirmation dialogue which will ask for confirmation to delete the selected tag/s Either select the Yes Button to confirm the deletion or the No Button to cancel deletion of the tags. |