Each of the applications described below are depicted in the following illustration, of a simple Trial/Nursery data workflow. Designed to fullfil their major role, they also overlap each other to add convenience to the user.
The diagram also shows KDXchange which is communication software integrated into KDXplore and KDSmart although it doesn't feature as a separate application.
In it's simplest implementation, KDSmart works without any of the surrounding application infrastructure, using only CSV files for input to score trials or nurseries and outputting results in CSV format.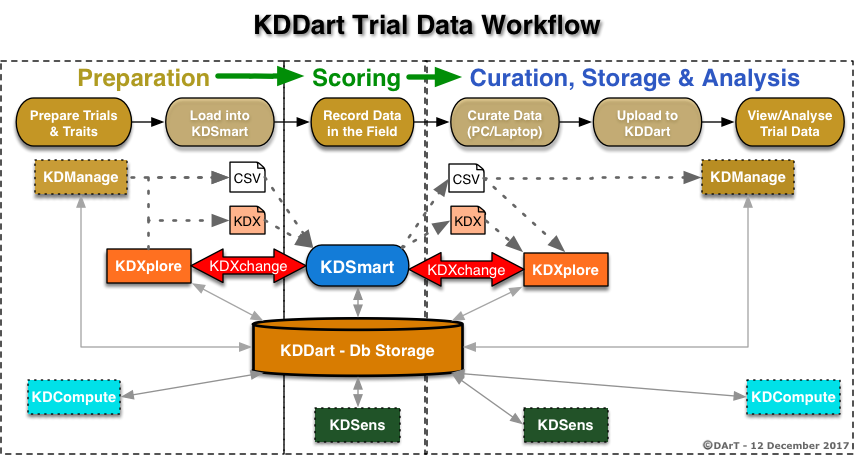 KDDart Trial/Nursery Data Workflow (mouse over to zoom)
Sitting unobtrusively in the above diagram is the KDDart Database Storage entity. As a season progresses data for your trials or nurseries will reside here, secure and accessable to those with access permission, ready for data curation and analysis.
Annual data collections grow with more research data, however it can remain accessible providing a greater body of data for ongoing comparative analysis. No need to 'find it' as it is all there, ready to be queried, year after year and from crop to crop.
KDDart databases are the heart of the platform, accessible by the applications. If these applications, below, are not quite what you need, you can quickly develop your own using the large and fully functional API, or Data Access Layer, which is used by each of these applications.