This page contains links to example files that will assist with both learning and getting started using KDSmart and KDXplore. As a resource, you can use these files as templates for replacing with your own data (Trials, Traits or Tags) which can then be imported into KDSmart or KDXplore.
Tips:
In KDSmart your own terminology may be used to define Plot, Column and Row - See Settings from the main KDSmart window or menu.
From these example files choose one most similar to your Trial's organisation, e.g. using Col and Row, Block IDs, Sub-Plots, etc.
The example files can be used as boilerplates by editing and substituting your own data.
In conjunction to looking at the sample files visiting the Transfers page is recommended for more information concerning loading data from CSV files.
This example file contains a Column and Row Trial.
For this type of Trial the combination of Column and Row is unique for every plot in the Trial.
To download select: KDSXsample1_Normal_Trial_X_Y.csv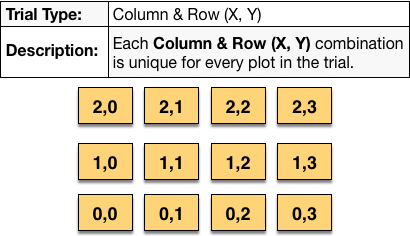 Select to download the Traits example file: KDSXsample3_wheat-traits.csv
Note: Traits loaded from CSV without a defined Datatype will default to TEXT.
Trait attributes that can be loaded in the file are described in the following table:
¶
Attribute
(CSV Column Name)
Description
TraitName
Must be unique and short for display in the Scoring screen where space is limited on smaller devices (i.e. Phones).
TraitAlias
An alternative Trait name, useful when the Trait name is too long for the screen.
TraitDescription
This is an optional longer explanation of the Trait to assist in data entry.
TraitDataType

Constrains permitted values of Traits. Types available are:

CATEGORICAL;
DATE;
ELAPSED_DAYS;
INTEGER:
DECIMAL; or
TEXT (default).

For more details refer to Trait Data Types in the Traits topic.

TraitUnit
An arbitrary term for the unit of the Trait to assist with what value to enter when scoring (e.g. Do I enter the measurement in 'millimeters' or 'centimeters').
TraitValidation
The Validation rule optionally restricts the values being entered. The nature of the rule is dependent upon the selection of Data Type.
Barcode
Used to identify the Trait when using a barcode scanner for scoring.
More information about Traits can be found on the Traits help page.
In this example Plot ID is unique for every plot in the Trial.
Select to download: KDSXsample4_demo_trial_plot_id.csv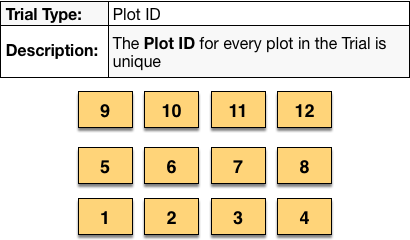 Block Trial where the combination of Block, Column, Row is unique for every plot within the Trial.
Select to download: KDSXsample5_Block_Plots_Right.csv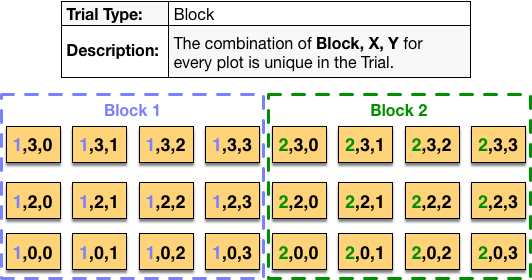 If you are creating CSV files for import into KDSmart the following Excel workbook may be useful:
Select to download: KDSmart_CSV_Import_Format.xlsx .
---
The following examples illustrate different ways of importing Sub-Plot data.
Trial has number of Sub-Plots specified by Sub-Plot Count and contains data for every Sub-plot. This example file contains the first three plots with values for:
The Trait Plant_Height: Instances 1 and 2; and
All Sub-Plots.
Select to download: KDSXsample8_Specimen_Count_and_data_for_every_subplot.csv